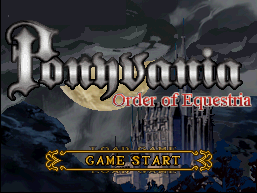 Welcome to the Ponyvania: Order of Equestria Wiki
A fan-game based on My Little Pony: Friendship is Magic and Castlevania, created with Game Maker. Ponyvania: Order of Equestria is a 2D action-platformer; the name and the main structure are a parody of Castlevania: Order of Ecclesia.
Game Jolt download page: https://gamejolt.com/games/ponyvania/232954
Warning: This Wiki contains spoilers, proceed at your own risk.
This Wiki is being updated to reflect the latest release of the game.
The newest version is v1.110, released on Oct 23th, 2021.
Developers
Paul Diaz - Programmer, Spriter
2Snacks - Intro Movie
Begasus TiuBe - Character Artist
kredri - Additional Artist
Jay Wright, Pony Noia - Desktop Ponies Templates
Bot-chan, StarStep, The Coop, oppl jok, RJP! - Desktop Ponies Sprites
Soul-Slayer, Krowzin88, Paragethioth, zuneFX, Cybermagus, Fun on four legs, Night - Testers
Game Download
External Links
Latest activity